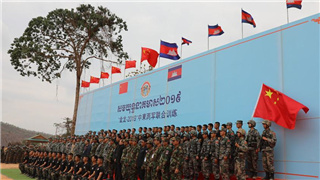 KAMPOT, CAMBODIA, Mar. 26 (ChinaMil) -- The closing ceremony of the 15-day China-Cambodia joint military exercise "Golden Dragon 2019" was held on March 25, 2019, local time, after completing an integrated anti-terrorism drill in mountainous area of Kampot Province, Cambodia.
His Excellency General Tea Banh, Deputy Prime Minister and Minister for National Defense of Cambodia, Major General Zhang Haiqing, Vice Commander of the Chinese PLA's Southern Theater Command, Wang Wentian, Chinese Ambassador to Cambodia, and military attachés from many countries observed the drill and attended the closing ceremony.
The anti-terrorism drill was conducted in the form of mixed grouping and joint operations of multi-arms, with a focus on over ten subjects in the mountain anti-terrorism operations, including intelligence reconnaissance, air rescue, air-to-ground firepower strike, coordinated operations between armored and infantry troops, explosive searching and elimination, as well as anti-chemical and decontamination operations.
Participating troops of both sides mainly came from special operations forces, attached with 11 specialized forces like armored troops, artillery and army aviation units. Both sides examined the training and combat methods of conducting multiple arms coordinated operations in anti-terrorism actions and explored a new model for commanding China-Cambodia joint military operations.
The joint exercise, revolving on joint anti-terrorism training and humanitarian assistance, started on March 13, involving more than 600 troops from both sides. It was divided into four stages: skill training, tactical training, table-top drill, and exercise with real troops and live ammunition.
Speaking at the closing ceremony, General Tea Banh praised the performance of both armed forces during the joint exercise. He said that he would like to turn "Golden Dragon" into an important mechanism for military-to-military exchanges and make it a new highlight to carry forward the traditional friendship and promote multi-field exchanges and cooperation between the two militaries, with a view to contributing to the world and regional security.
Chinese Ambassador Wang Wentian said that China and Cambodia share a deep and long-standing traditional friendship, which is beneficial to the two peoples. The pragmatic cooperation in various fields between the two militaries has developed in depth and made significant contributions to the development of China-Cambodia comprehensive strategic partnership. The "Golden Dragon", a brand project jointly created by the two militaries, has played a positive role in promoting the development of relations between both countries as well as the two militaries.
Major General Zhang Haiqing said in his speech that the Golden Dragon 2019 is a concrete measure to implement the consensus reached by China and Cambodia on strengthening the pragmatic cooperation between the two militaries. It is of strategic significance for consolidating traditional friendship, enhancing military strength and creating a favorable environment. The two sides have continued to make great breakthroughs in terms of cooperation, professionalism and precision, and the training subjects have been designed closer to actual combat. Both troops have gained their practical experience and forged friendship during the joint exercise.