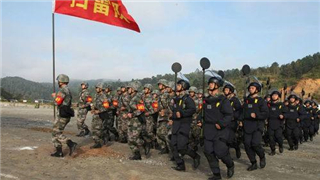 By Zhou Xianjun and Liu Xiaohong
KUNMING, Dec. 28 (ChinaMil) -- The Army of Southern Theater Command of the Chinese People's Liberation Army (PLA) started the emergency minesweeping operations along the border of China and Myanmar in the city of Mangshi of Dehong Dai and Jingpo Autonomous Prefecture in southwestern China's Yunnan Province on December 27.
It is learned that the minesweeping operations will be aimed at carrying out emergency clearance of minefields along the China-Myanmar border to safeguard the lives and property of local residents and provide a safe environment for opening up and development of the border areas.
The region where the operations take place has high mountains and steep slopes, deep valleys and lush forests. The harsh natural conditions add difficulty to the minesweeping mission. The Army of PLA Southern Theater Command organized a team comprised of more than 300 minesweepers from the former Yunnan de-mining group, who had just completed a minesweeping mission in the Yunnan section of the China-Vietnam border and accumulated rich de-mining experience.
It is said that the minesweeping team has completed preparatory works including task deployment, minefield survey, and combat training. Next, they will remove landmines according to different topographical conditions of minefields by methods such as manual searching and de-mining, explosive clearance, and mine clearance with fire.