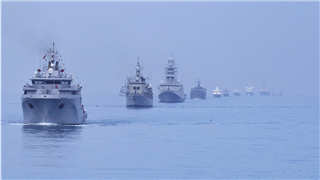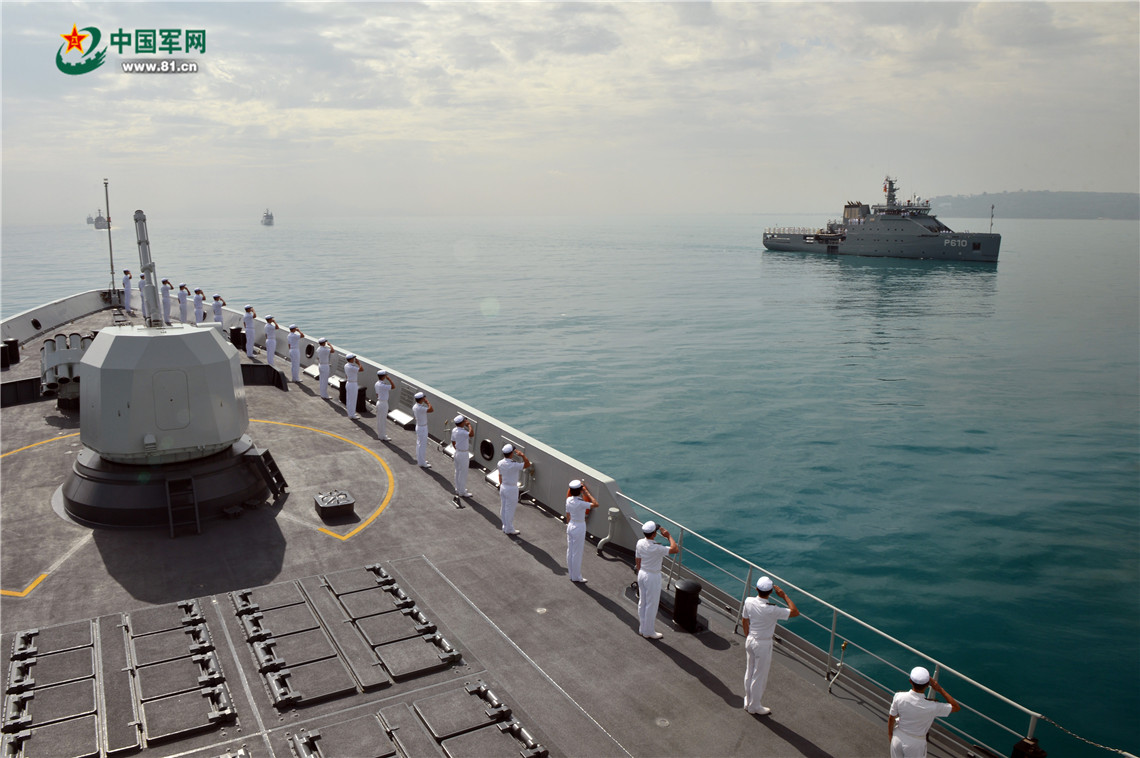 Chinese sailors aboard the Chinese guided-missile frigate Wuhu (Hull 539) salute to the Tunisian offshore patrol vessel Jugurtha (P610) during the naval parade marking the 60th anniversary of Tunisian Navy in the Gulf of Tunis. (81.cn/ Photo by Zhang Hailong)
By Zhang Hailong and Lai Yonglei
GULF of TUNIS, Oct. 18 (ChinaMil) -- The Tunisian Navy held its first international naval parade in the Gulf of Tunis on October 16 to mark the 60th anniversary of the Tunisian Navy. The Chinese guided-missile frigate Wuhu (Hull 539) participated in the naval parade.
At 11 a.m., led by the multi-service offshore patrol vessel (MSOPV) Syphax (P611) from the Tunisian Navy, more than 20 naval vessels from Tunis, China, the UK, France, Italy, etc, sailed to the designated sea area in a single file formation.
At 11:30 a.m., the naval parade kicked off. The Chinese frigate Wuhu was fully adorned with nautical flags according to the requirements of the Tunisian side, and its crew members man the rails and rendered salutes to the inspection vessel MSOPV Jugurtha (P611) from the Tunisian Navy.
Tunisian Defense Minister Farhat Horchani reviewed the multi-national warships aboard the inspection vessel, together with heads of delegations from other countries.
Prior to the naval parade, Tunisian President Beji Caid Essebsi met with all heads of delegations from other countries in his presidential palace.
It was reported that the Chinese frigate Wuhu sailed to Tunisia from the western waters of the Gulf of Aden on October 7. It crossed the Mandab Strait and the Suez Canal, passed through the Mediterranean Sea, and arrived at the Port of La Goulette in Tunis on October 14.
The Chinese Embassy in Tunisia held a short welcome ceremony for the frigate Wuhu at the port on October 7. Chinese Ambassador to Tunisia Wang Wenbin, accompanied by local overseas Chinese and representatives of Chinese-funded institutions, boarded the frigate Wuhu for a visit.
The celebration of the 60th anniversary of Tunisian Navy started on October 15. Rear Admiral Xu Haihua, head of the Chinese delegation, attended the various celebration activities such as seminars, visits, exchanges and naval parade on invitation.
Frigate Wuhu is attached to the 30th Chinese naval escort taskforce. During Frigate Wuhu's visit in Tunisia, the guided-missile frigate Handan (Hull 579) and the comprehensive supply ship Dongpinghu (Hull 960) attached to the 30th Chinese naval escort taskforce have been continuing their escort missions in the Gulf of Aden.