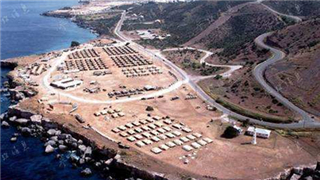 Chinese investments in Djibouti have increased after the Chinese Navy launched its first overseas logistics supply base last year, a local businessperson said.
Since the Chinese Navy established the base in Djibouti last summer, more Chinese companies have come to the country to do business, Ahmed Mohamed Arab, an investment and marketing official at the East Africa Bank, told the Global Times.
"When investing in a foreign country, security is always a big concern. China's first overseas logistic base in Djibouti gives Chinese businessmen more confidence in making long-term investment," Arab said.
"We also felt more secure and confident to do business with Chinese companies because they are well taken care of in the country," he added.
Several Chinese businessmen in Djibouti, who preferred to remain anonymous, told the Global Times that the base, which sits close to the Doraleh Port jointly developed by a Chinese company and the Djibouti government, makes them feel more confident in developing businesses in the country.
The base also provides emergency medical assistance to Chinese business people, employees from a nearby Chinese company said.
The port is also a 20-minute drive from the Djibouti Free Trade Zone (FTZ), another project jointly developed by Chinese companies and Djibouti authorities. Djibouti is home to China's first overseas naval logistics base which formally opened in August 2017.
Sitting on the Bab el-Mandeb Strait, the gateway to one of the world's busiest shipping routes, Djibouti is also home to the largest US permanent military base in Africa and one of the largest concentrations of French forces.
Foreign military bases make the place more secure, as that is a sign the place will enjoy long-term stability, Mouad Abdulwahab Al-Hashedi, general manager of the Yemen-based Al-Hashedi Djibouti company, told the Global Times. It's a win-win situation, he said.
China has stressed that the base is not military in nature and functions as a supply base for humanitarian and peacekeeping missions.
Aside from a lack of adequate infrastructure, the biggest challenge for Chinese investors in Djibouti is political uncertainty, Meng Guangwen, a professor specializing in free-trade zone studies at the Tianjin Normal University told the Global Times.
As a country that hosts military bases from countries like the US, France and Japan, it is hard to say how much autonomy the country has in policymaking, Meng said.
However, Dawit Michael Gebre-ab, senior director of Strategic Planning for Djibouti Ports & Free Zones Authority, said Djibouti is a sovereign state and the military bases will have no influence over Djibouti developing a service-based economy, and that the Djibouti FTZ is proof of this.