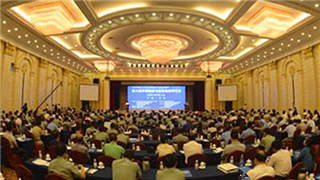 By Wang Yitao and Ding Chutian
GUANGZHOU, June 27 (ChinaMil) -- The 9th military logistics and emergency logistics seminar kicked off in Shenzhen City, South China, on Tuesday. More than 200 people from military and civilian circles attended the 2-day seminar with the theme of "Application of Modern Logistics Technologies in  Battlefield and Emergency Logistics Support".
Jointly sponsored by the Joint Logistic Service College of the National Defense University of the Chinese People's Liberation Army (PLA) and other military and civilian organizations, the seminar is aimed to promote greater military-civilian integration in military logistics and emergency logistics operations.
The seminar focused on the application of technologies of Internet of Things (IoT), big data, artificial intelligence (AI), unmanned aerial vehicle (UAV) in the battlefield and emergency logistics support operations.
The seminar has three sub-themes, i.e., the development of smart logistics technology and its military application, the standardization construction of military-civilian integrated military logistics, and the application of UAV in battlefield logistic support.
During the seminar, representatives from the government, the military, industry associations and logistics enterprises had brainstorm sessions, and watched demonstrations of relevant technologies and products.
The military logistics and emergency logistics seminar inaugurated in 2009 has become an important platform for facilitating military-civilian exchanges and promoting development of the logistics industry.