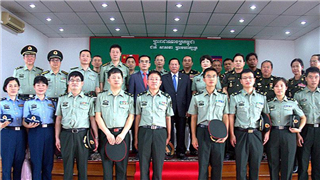 By Mao Pengfei
PHNOM PENH, June 21 (ChinaMil) -- A medical expert team of the Chinese People's Liberation Army (PLA) offered free clinical treatment to Cambodian military personnel and citizens as well as overseas Chinese in Cambodia from June 16 to June 20, 2018.
The 31 team members come mainly from two affiliated hospitals of the PLA Naval Medical University, i.e., the Changhai Hospital and the Changzheng Hospital. During the five-day stay in Cambodia, they treated more than 3,000 patients and distributed more than 20,000 boxes (bottles) of medicines.
Chinese military medical experts provide instructional assistance for the doctors of the Preah KetMealea Hospital, the general hospital of the Royal Cambodian Armed Forces. The surgeons of the hospital successfully completed more than 20 surgeries under direction of the Chinese experts.
While inspecting the Preah KetMealea Hospital on Tuesday, Cambodian Deputy Prime Minister and Minister of National Defence Tea Banh expressed his appreciation for the outstanding contributions made by Chinese medical experts to Cambodia's medical cause in recent years.
Tea Banh said he was looking forward to more support from China in medical and healthcare services to benefit more Cambodian people.
Cheng Chuanmiao, head of the medical team and Vice Principal of the PLA Naval Medical University, said that in the past 7 years, around 100 Chinese military medical experts have treated over 16,000 Cambodian patients, completed more than 1,400 surgeries. With the help from the Chinese side, Cambodia has achieved zero breakthroughs in more than 30 medical areas.
The Cambodian Defence Ministry has conferred for six consecutive years the "Peace Knight Medal" and the "China-Cambodia Peace and Friendship Medal" on the Chinese military medical experts.