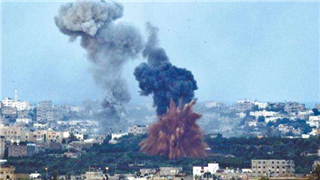 JERUSALEM, May 29 (Xinhua) -- Israeli aircraft struck Hamas and Islamic Jihad sites in the Gaza Strip on Tuesday after an earlier mortar attack from the besieged Palestinian enclave.
There were no immediate reports of casualties in Gaza and Israel.
"Israel is currently operating in the Gaza Strip," the Israeli military said in a statement, without giving details.
Local media said sites belonging to Hamas, the Islamist Palestinian movement that controls Gaza, and Islamic Jihad, a local Islamist group, were targeted in the Israeli attack.
The air raid came shortly after Israeli Prime Minister Benjamin Netanyahu threatened to respond with "great force" to a barrage of 28 mortar shells fired from Gaza early in the morning.
No organization has yet claimed responsibility for the attack, but local media cited a security official as saying the mortars were likely launched by the Islamic Jihad, which lost three fighters on Sunday when Israel attacked a military observation position in the coastal enclave.
However, Netanyahu said Israel will hold Hamas "responsible for preventing these attacks."
The incident came amid a rising tension between Israelis and Palestinians, as at least 110 Palestinians have been killed by Israeli fire since March 30, the first day of the ongoing Palestinian anti-Israel "Great March of Return" rally.