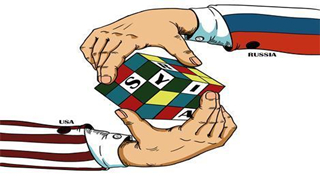 by Matthew Rusling
WASHINGTON, April 11 (Xinhua) -- U.S. President Donald Trump on Wednesday tweeted that he would strike Syria with missiles warning Moscow not to shoot them down, amid tensions with Russia.
Experts warned that Trump's move will further harm U.S.-Russia relations.
"Russia vows to shoot down any and all missiles fired at Syria. Get ready Russia, because they will be coming," Trump tweeted Wednesday morning, in a jab at Russia.
Brookings Institution Senior Fellow Darrell West told Xinhua: "It would sour relations with (Russian President Vladimir) Putin and put Trump more on a path towards confronting Russia on a range of issues. In the long run, it would be more difficult for the two countries to work together."
This comes amid tense U.S.-Russia relations. The Trump administration earlier this month planned to slap more sanctions on Russian business elite, which may lead the "bad blood" between Russia and the United States to further deterioration.
The relationship between Washington and Moscow has plunged to a new low, as the United States expelled 60 Russian diplomats and closed the Russian consulate in Seattle in a concerted action with Britain and other Western nations over an ex-spy poisoning case, which took place last month.
Moscow's relations with the West has been sour over years amid disagreements involving the war in Syria, the conflict in Ukraine, and also the alleged Kremlin meddling in the 2016 U.S. presidential elections, which Moscow has denied.
While there has been talk of a meeting between Trump and Putin, it remains unknown whether the meeting will fix problems between the two nuclear powers, and some experts are negative about that possibility.
Dan Mahaffee, senior vice president and director of policy at the Center for the Study of the Presidency and Congress, told Xinhua that Trump's Twitter account has become a direct pipeline to the thinking of the president and, in this instance, the thinking of the commander-in-chief of the U.S. military at a time of international tension.
"U.S.-Russia relations are getting colder, and statements via Twitter and other proxies raise the risk of miscalculation on both sides," he said.
After the U.S. warmongering rhetoric against Syria and its allies, Russia warned the United States against striking Syria.
"Russia has warned U.S. representatives, publicly as well as through proper channels, over the grave consequences that could arise if these strikes happen and whether deliberately or otherwise Russian citizens are hurt," Russia's envoy to the European Union Vladimir Chizhov said.
Also, Russia's Ambassador to Lebanon Alexander Zasypkin said Wednesday that his country would respond to any U.S. missiles fired at Syria by shooting them down and targeting their launch sites.
Activists, local rescuers, and rebels in Syria claim that Syrian government forces used chlorine gas on Saturday in an attack in Douma, a rebel-held area near capital Damascus.
The Syrian Foreign Ministry has denied the accusation, calling rebels' claims "premeditated pretexts."