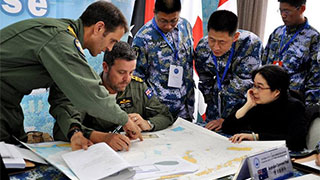 NANJING, Dec. 11 (ChinaMil) – The "Cooperation Spirit 2017" joint humanitarian assistance and disaster relief (HADR) tabletop exercise concluded in Nanjing on Dec 8, with all participants saying that the exercise has achieved remarkable results and expected goals.
Participants from China, Australia, New Zealand and the U.S. worked together and formulated an efficient, comprehensive and professional search-and-rescue plan for aircraft crashes in the sea, providing useful reference for relevant countries and international organizations to conduct maritime drill and joint search-and-rescue operations in the future.
Li Weidong, deputy leader of the Chinese team, said that the exercise, featured with reasonable scenarios and practical and targeted subjects, plays a catalytic role in deepening international exchanges and cooperation in the field of HADR and adds momentum to consolidating and promoting the development of the relations between the participating parties.
During the exercise, all parties also practiced the rules of accidental encounter at sea and the standard procedures for humanitarian aid of ASEAN in accordance with the plan. They held in-depth study and exchange and reached a series of important consensus on "Joint Search and Rescue Coordination Mechanism Construction," "Joint Search and Rescue Information Sharing Path", "Harbor Coordination Mechanism" and other issues.
All parties gave positive feedbacks to the tabletop exercise organized by the Chinese military.
A lieutenant colonel from the New Zealand Navy said that China has a huge international responsibility and the New Zealand side appreciates and welcomes China's active participation in international humanitarian relief operations.
He also expressed his hope to have more opportunities to carry out relevant exchanges and cooperation with the Chinese military in the future.