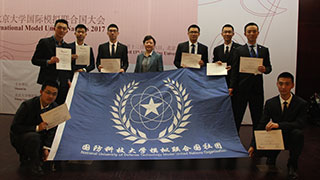 The Asia International Model United Nations 2017, which was held by Peking University Model Unite Nations Association, grandly opened in Zhongguanyuan Global Village, PKU, April 13, 2017. In this splendid activity, team of our university, the National University of Defense Technology, got an excellent mark. Luo Siheng, Li Wenruo and Zhang Zhe all got the award of "Best Delegates". Furthermore, Liu Yuanjin and Wu Shiyang both got the award of "Honorable Mention". Fortunately, I got the award of "Best Editorial Board Member" in this time.
Many people think that the awards in Model United Nations are easy to get, and take it for granted that the participant of our school should win the prize. However,I hold the opposite opinion .As far as the 2017 AIMUN is concerned, it was not an easy job and I totally believe it was a tough task. What can I do is to strain every nerve and the preparations I did before this match were overall. And now I want to share some experience about the competition of the Main Press Center Committee in Model United Nations.
Principally, as a Main Press Center Member, the article you wrote should be objective and rigorous, it means that you should learn a lot of knowledge of the Press and read some kinds of news report. Thanks to the News hour from 7 p.m. to 7:30 p.m. in our school, I can know lots of not only domestic but also international news. And due to the need of propaganda in army, I had already learnt a lot of skills about writing article as a member of the manuscript group in Youth League branch.
Next, it is necessary for you to design and compose the newspaper if you want to be a delegate in the Main Press Center. I studied design and compose on my own because I used to be the person in charge of the magazine in our battalion. The Daily Newspaper is one part of your job but actually you couldn't design or compose the newspaper in such a short period. So the advice for you is that you should get ready for the newspaper templet meeting the requirements of the Organization Committee. Since every MUN owns its characteristic and rules, you'd better to look over the handbook carefully.
Additionally, keeping well in touch with Daises would help you a lot. It doesn't mean that you have to ingratiate them, you can just only chat with them just like your friends. During the competition, it is also crucial for you to connect with Chairs, because you should show your talent to them and show whatever you have done. This is one of our advantages since we are used to dealing with superiors.
Despite the personal ability is important in the Model United Nations, the sociality capacity and cooperation also are stressed by Model United Nations. If you get on well with your partners even the competitor, you will be happier and more relaxed. We know how to cooperate well with other because many things in the military school should cooperate and coordinate with others, it is hard for you to finish everything by yourself. It is high time for you to ask someone to do you a favor. Obviously, no one will sincerely want to give you a hand only when you have a close relationship with them. Maybe you can invite them for a meal and it does help a lot for promoting your relationship.
More commonly, there are all kinds of emergency situations which will happen during the match. For instance, I used to come across an event that the organizing committee decided to hold a temporary press conference. In this case, I needed to prepare for the conference in hurry. The emergency situations are also a test of your strain capacity.
As the old saying goes "No pains, no gains". To be honest, it was difficult during the Model United Nations competition. Especially when you want to have a happy ending, there is no doubt that you have to stay up late and maybe you can't sleep during the whole night. What's worse, you should have the psychological preparation for eating irregularly. But in my perspective, if you put your heart and soul into it, you deserve to own the best reward. And to be amilitary man with four virtues, it means to be firm and indomitable and shouldn't afraid the setbacks. I highly appreciate NUDT which makes me to a real solider.
Written by Liu Hongbin, a cadet from the PLA National University of Defense Technology