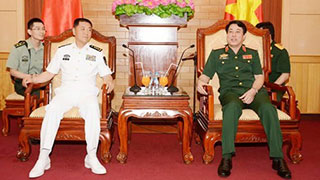 Senior Lieutenant General Luong Cuong (R) recieving PLAN Political Commissar, Senior Lieutenant General Miao Hua
From the People's Army Newspaper of Vietnam
PANO – Senior Lieutenant General Luong Cuong, Director of the General Department of Politics of the Vietnam People's Army, welcomed a delegation of the Navy of the Chinese People's Liberation Army (PLAN), led by its Political Commissar, Senior Lieutenant General Miao Hua, on May 5 in Hanoi.
At the reception, General Cuong highly appreciated the results of the previous working session between delegations of the PLAN and the Command of the Vietnam People's Navy. He highlighted, in 2017, Vietnam and China have many important activities to strengthen cooperation and mutual understanding, contributing to deepening their comprehensive strategic partnership in general and the relations between the two militaries and two navies in particular.
The Vietnamese general affirmed that the consistent viewpoint of the Vietnam's Party, State and Army is to build a long-term, reliable, and comprehensive cooperative relationship with China. Thanking the great support from China's Party, Government and people for the Vietnamese people in wartime and national development, General Cuong underlined that the two militaries are enjoying developing bilateral cooperation, including defense strategic dialogues, delegation exchange, border cooperation, maritime joint patrols, experience sharing in joining the United Nations peacekeeping operations, especially the Vietnam-China border defense friendship exchange program. Defense cooperation is an important pillar in the Vietnam-China comprehensive strategic cooperative partnership and one of the important pillars serving the relationship between the two Parties and the two States.
For his part, Chinese General Miao Hua thanked the host for the reception, adding that China's Party and Government always attach great importance to promoting the traditional friendship with Vietnam.
The Chinese guest stressed the two militaries should step up bilateral cooperation in depth in order to bring practical benefits to the two countries and contribute positively to peace and stability in the region and in the world.
He also suggested the two militaries multiplying cooperation between their units including the border guard forces and navies; continue to maintain high level visits and young officer exchanges; as well as expand practical comprehensive cooperation between the two countries' units, academies and schools.
Disclaimer: The article is reposted from the People's Army Newspaper of Vietnam and does not reflect the views of eng.chinamil.com.cn. Chinamil.com.cn does not assume any responsibility or liability for the same. If the article carries photographs or images, we do not vouch for their authenticity.