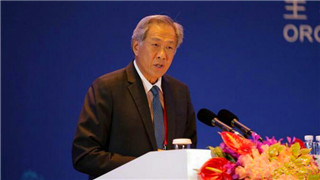 BEIJING, Dec. 5 (ChinaMil) -- The Singapore Defense Minister Ng Eng Hen said during a panel discussion at the Reagan National Defense Forum on Sunday in California, US, that it is neither possible nor strategically necessary to contain China's rise, Business Times of Singapore reported on December 4.
According to a transcript supplied by the Singapore's Ministry of Defense, Ng said: "China is now an indispensable leader of global systems of trade, finance and security. "
"It is clear that China needs the world as much as the world needs China." He thinks that this interdependence will grow, not diminish.
On the same day, he also spoke about the importance of the US's continued engagement of the Asia-Pacific region.
Ng stated that people should see the rise of China, India and ASEAN (Association of Southeast Asian Nations) as a "virtuous outcome" of the US foreign and defense policies over the last seven decades.
That very fact alone validates the US foreign and defense policies in Asia over the last few decades. But he also thinks that this success brings a suite of new challenges as "we contemplate US foreign policy moving forward".
Singapore has always spoken highly of the "Asia-Pacific rebalance" strategy of the US. Since this year, the strategy close alignment with the US on the South China Sea arbitration case has caused dissatisfaction to the Chinese government.