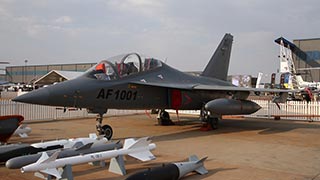 ZHUHAI, Nov. 4 (ChinaMil) -- The 11th China International Aviation and Aerospace Exhibition (Airshow China 2016) kicked off in Zhuhai on November 1.
The exhibition not only brought together many domestic and foreign well-known exhibitors, but also attracted many domestic and foreign customers to visit and to discuss opportunities for cooperation.
In an exclusive interview, Erick Chimese, commander of Zambia Air Force, said that China's L-15 fighter trainer (training and light attack aircraft) is a very advanced multi-purpose flight platform with advanced avionics and weapon systems. As a third-generation aircraft, L-15 has led the Zambia Air Force to the modern aviation stage.
In the international market, the advanced trainers mainly include Yakovlev Yak-130 of Russia and M346 of Italy and so on. So why would the Zambia Air Force choose L-15?
Chimese said that as a developing country, Zambia needs to take financial issues into account in the procurement of new aircraft. As the traditional partner of the Zambia Air Force, the Aviation Industry Corporation of China (AVIC) provided us with a very flexible choice, which helped the Zambia government fulfill the goal of procuring advanced fighter in a tight financial situation.
Moreover, from the perspective of the national defense development, Zambia needs to have a strong air force to defend the country. L-15 can meet this requirement and help balance operational tasks and training efficiency.
In addition, the maintenance cost of L-15 is not expensive. With the above factors considered, after a comparison of similar aircraft of Russia and Italy, the Zambia Air Force made its final decision on L-15, Chimese said.
Over the years, the Zambia Air Force has purchased a variety of Chinese aircraft, which made it an loyal AVIC customer. Chimese said that with a strong national defense, China is a powerful country comparable to the US and Russia. Zambia has always been China's traditional partner. The economic growth of Zambia has led to a growing demand for the development of national defense.
In this regard, Zambia hopes to stay in line with China, he said. From the Zambia Air Force's point of view, there is no doubt that it hopes to procure more advanced equipment like fighters and other types of aircraft, according to Chimese. The Zambia Air force is currently in negotiation with AVIC on such matters, he added.
Chimese said that Zambia is a major African country with a vast territory, so air transportation has broad prospects in Zambia and there is also a high demand for aircraft. The Chinese aircraft such as Modern Ark 60, Y-12 and Z-9 purchased by Zambia have already facilitated Zambia's transportation. Therefore, there is no doubt that Zambia will consider the procurement of more Chinese aircraft in the future, he said.
Chimese said that compared with many airshows including the Paris Air Show, the Dubai Airshow and the Africa Aerospace and Defense Show, the Airshow China 2016 is a world-class exhibition in terms of organization or exhibits. Since his first visit in 2012, the Airshow China has made great progress with an increasing scale and a richer display of exhibits, he said.
At the opening ceremony of the Airshow China 2016 on November 1, the domestic heavy stealth fighter J-20 made its public debut with a wonderful flight performance. After seeing the flight performance of J-20, Chimese said that he felt as if he saw the future of Chinese fighters.
Chimese is a former fighter pilot with years of flying experience, he said that the J-20 is an advanced fighter comparable to the F-22 of US. The flying actions of J-20 showed that it has a very strong thrust, which is quite shocking, he added.
Before the appearance of Chinese fighters such as J-20, the fights in the world were divided into two groups: the west and Russia. Chimese said that he hopes the AVIC can continue to develop so that other countries will have more alternatives in the future.