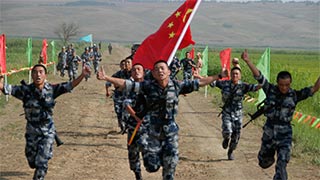 Today, the first stage of the "Airborne platoon" international contest has started near Novorossiysk. Teams of Russia, Kazakhstan, China, Belarus, Iran, Egypt, Venezuela, and team of the Voluntary Association for Assistance to Army, Air Force and Navy (DOSAAF) are participating in the competition.
The servicemen performed parachute jumping from Mi-8 helicopters and conducted 10-km marching.
According to Colonel Gennady Yagodkin, assistance of Airborne Commander responsible for the physical training, teams of China, Kazakhstan and Russia took the first three places.
He also added that the Russian servicemen have beaten the record. They have passed the 10-km distance in 46 minutes and 19 seconds.