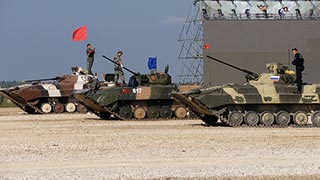 "Suvorov attack" international contest among IFV crews starts at the Alabino range on July 31.
Crews of Russia, China, and Kazakhstan are competing in course of the first race of the contest. Chinese team is operating its own combat hardware. Crews from Russia and Kazakhstan are operating the Russian BMP-2 IFVs.
"Suvorov attack" and "Tank biathlon" are held at one track and have similar rules. IFV crews are to engage targets, which imitate light-armored vehicles, low-flying helicopter, and antitank crew.
Each crew is to overcome obstacle lane, ford, "mine" obstacle, hill, track bridge, antitank ditch, escarp and slope.
Teams of Russia, China, Venezuela, Kazakhstan, and Iran are competing for title of the best in the "Suvorov attack" international contest within the International Army Games.