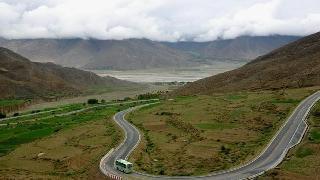 Editor's Note: Under the leadership of the Communist Party of China (CPC), China has worked with all other countries to build a community with a shared future for mankind, which has boosted confidence and added impetus for development of Asia and the world. For the celebration of the 100th funding anniversary of the CPC, we are launching the "CPC in eyes of foreign military students" series, viewing China and CPC from the perspective of foreign soldiers.
By Prem Bahadur Karki
It has been more than three years since I left China. Back then, I was studying engineering at China's Army Logistics University. Now I'm participating in the construction of roads in Nepal. The days of building roads in the deep mountains are tough, but whenever I remember in China, the people often say, "to build fortune, roads should be built first," I feel this kind of hardship is worthwhile.
As for going to China for training, I was hesitant about it at first because I didn't know much about China and the ruling party in this country. From time to time, some Western media news releases that slandered China could be seen online. I had no direct knowledge and experience on how the Communist Party of China (CPC) lead China to prosperity.
As the plane landed at Chongqing Jiangbei International Airport, my journey to China began. From the airport to the university, everything along the way was pleasant and unforgettable. There is lush vegetation, beautiful buildings, busy roads, and friendly citizens. I remember that it was September, and Chongqing was still a bit hot, and I felt kind of excited.
The landscape of China has remained in my memory for a long time. It would be a mission impossible to cerate such a beautiful environment if there were no impressive infrastructure. Convenient road traffic, stable water and power supply systems, advanced communications, and other public facilities that people take for granted have quietly accelerated China's social and economic development.
The CPC vigorously promotes the construction of road transportation and other infrastructure and boosts educational and technological progress through various measures. I believe that the CPC is a political Party of vision that has formulated a scientific national development strategy for this great country in the East. This development strategy, known as the "roadmap", will promote the high-quality development of China's economy.
China paves the way to development and prosperity. China focuses on improving infrastructure and optimizing the business environment. With the perfect supporting facilities, China will naturally attract more investment, and the national economy will develop better.
Nepal's infrastructure conditions are still relatively backward, especially with the shortage of electricity supply. The situation became worse after the severe earthquake in 2015, and in some areas there even was no electricity supply. Chinese enterperises have invested in the construction of power stations in Nepal, which has stimulated local employment and injected vitality and impetus into local economic development. In recent years, Nepal and China have conducted more and more friendly cooperation. China has undertaken many aid projects in Nepal, including the inner-ring road reconstruction in Kathmandu, medical and health care, etc.
The practice of promoting economic and social development through infrastructure construction has given me a deep impression. As a practitioner of engineering, it is my obligation to dedicate my knowledge and experience to Nepal's development and contribute to building roads to development and prosperity of my motherland.
(This article is based on an interview by the PLA Daily with Major Prem Bahadur Karki assigned to Nepal Army, who had once studied at China's PLA Army Logistics University.)