By She Guanjun, Chai Hua and Wu Min
The year 2019 marked the 70th anniversary of the founding of the People's Republic of China and was also a crucial year for the decisive victory in building a moderately prosperous society in all respects. Meanwhile, the Chinese People's Political Consultative Conference (CPPCC) celebrated its 70th birthday in 2019.
During the year, the CPPCC exercised its functions, and its members performed their duties in political consultation, democratic oversight, and participation in the deliberation and administration of state affairs and contributed wisdom to economic and social development, national defense and military buildup and reforms.
Contributing to planning and serving the overall development
In 2019, the CPPCC military members submitted 349 proposals about overall national development, 309 of whom participated in investigations and surveys with 86 research reports finished, and 175 keynote speeches made.
The year 2019 was crucial in winning the anti-poverty battle in China. Lieutenant General Wang Shaojun, a member of the CPPCC, is in charge of coordinating medical assistance and agricultural product procurement assistance in poverty-stricken areas, including China's Shaanxi, HenanProvinces, and China's Xinjiang Uygur Autonomous Region. Jia Xiaowei and Lei Xun, also members of the CPPCC, conducted special surveys on poverty alleviation in southwestern ethnic areas and border areas.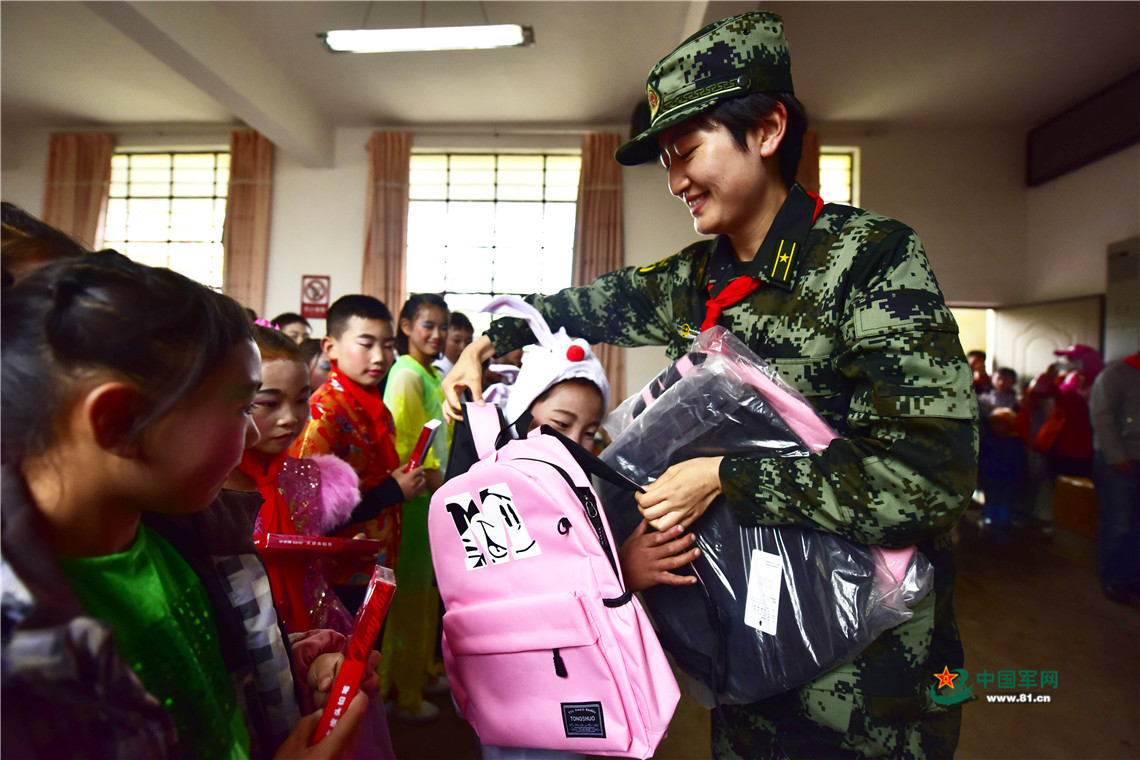 Officers from the Armed Police Qujing Detachment under the Armed Police Yunnan Contingent of the Chinese People's Armed Police Force bring donations to primary school students living in Ge He Mi village, a deep poverty area in Huize County of Qujing City, Southwest China's Yunnan Province.(chinamil.com.cn)
Another CPPCC member Li Zhaoshen went to China's Gansu province for poverty alleviation in healthcare, and a CPPCC member from Xinjiang submitted a proposal on increasing the support and assistance for 22 deeply impoverished counties in southern Xinjiang Uygur Autonomous Region.
Manufacturing industry is the very foundation on which we build and consolidate our country. CPPCC member Song Junqiang made a special speech at a CPPCC special consultation meeting, clarifying the significance of strengthening the construction of the technology foresight system.
Several CPPCC members went to military and private enterprises across China for the high-quality development of the military manufacturing industry and submitted multiple proposals of high reference value.
CPPCC military members of science and technology circle, especially academicians such as Zhou Jianping, Yang Yuanxi, and Fan Bangkui, have paid close attention to the investigation and research on key scientific and technological innovation heights such as aerospace, satellite navigation, artificial intelligence and so on, and contributed personal wisdom and strength to the science and technology development of China.
CPPCC members Lieutenant General Lu Fu'en, Major General Yu Shouguo, Bian Xiuwu and others have kept a close watch on the issues concerning agriculture, countryside, and peasant, and put forward proposals topromote environmental protection including the recycling of agricultural waste, which have received wide response and support.
Besides, another member Major General Qu Xinyong has investigated Sanjiangyuan ("Three River Source"), an area in Northwest China's Qinghai province, on-site for many times, and organized military officers, soldiers and militias stationed therein to participate in the construction of major ecological projects.
Pulling together to get prepared for warfare
A powerful country relies on its strong military, which in turn can guarantee national security. The military CPPCC members keep in mind their duties and missions They have visited frontier defense troops, sentry posts, troops stationed on high altitude or sea islands, putting forward many insightful opinions on training, combat readiness and soldiers' benefits. They have got involved in and completed 220 major tasks throughout the year, taken part in 215 major research projects in the military field, and written and published 285 academic articles.
Focusing on the modernization of military personnel, members such as Liu Fulian, Zhang Xiaoguang, and Jiang Bitao went to western provinces for investigation and survey. They brought forward opinions and suggestions for improving the Talent Cultivation System of New Combat Force.
An ABV attached to an army brigade under the PLA Eastern Theater Command fires a rocket-projected MICLIC to clear the mines during a live-fire field training exercise on May 5, 2020. (eng.chinamil.com.cn/Photo by Zhang Mao)
Facing multiple new challenges for military installation protection, CPPCC members Wang Jian, Bi Jingjing, Liu Gengqun, Yang Liwei, and so on, visited areas like Shenyang Province and Dalian city, Liaoning Province to investigate the protection issues along with the CPPCC National Committee Survey Team. Their investigation report obtained thereby has drawn great attention from relevant departments.
The committee members have carried out pragmatic publicity and research on practical issues, including the placement of retired soldiers, relocation of retired and disabled soldiers to the local government, and preferential treatment to the families of servicemen and martyrs in order to provide first-hand materials to promote relevant legislative work.
Caring for people's livelihood
The CPPCC military members firmly established the people-centered concept, measured the people's sentiments with their steps, and proactively responded to the hotspot or difficult issues such as education and health care that the masses are concerned about. They have written 40 papers on social conditions and public opinions and received 55 letters and visits from the masses; altogether, 165 of them have participated in social welfare activities, including volunteer services, donations, poverty alleviation work through the year.
Regarding the education reform and development, the CPPCC military members have offered opinions and suggestions which are of great reference to the introduction of relevant policies. Some members, including Lu Ming, Wu Dewei, and Lei Min, paid close attention to national defense education for young people and donated money to help poor children return to school. CPPCC member Sun Sijing made in-depth thinking on the issue of "implementing differentiated support policies and guiding the development of non-government funded education" and called on all sectors of society to support non-government funded education. The proposal to improve the treatment of rural teachers by CPPCC members Liu Zhuoming and Zhao Ruifeng were adopted by the Ministry of Education of the People's Republic of China. Under the unified organization of the subcommittee for Liaison with Hong Kong, Macao, Taiwan and Overseas Chinese under the CPPCC National Committee, member Xing Shucheng led 38 young people from associations in Hong Kong and Macao to Guizhou for learning through experience.
Officers from the Armed Police Qujing Detachment under the Armed Police Yunnan Contingent and children in Ge He Mi village pose for a group photo. The Armed Police Qujing Detachment has been providing financial and material assistance for the students in Ge He Mi village, a deep poverty area in Huize County of Qujing City, Southwest China's Yunnan Province. (chinamil.com.cn)
To solve the issue of difficulty in and high cost of getting medical services, CPPCC member ZangJihui put forward suggestions to further improve the graded diagnosis and treatment system. CPPCC member Han Yaling led 41 cardiovascular experts to Yunnan to conduct free clinical care, treating 2779 persons, and donated medical devices worth more than 100,000 yuan to local hospitals. CPPCC member Xing Gengyan made a special trip to Qinghai to participate in an activity launched by the CPPCC National Committee to bring cultural, scientific medical services to the rural areas, and CPPCC member Gu Jianwen went to Tibet twice for itinerant treatment and teaching, delivering medical treatment and health care to the local people in need.
CPPCC member Ainati Imer has been a frequent visitor to ethnic minority households, including those in Kezhou, Kashgar, and Hotan in Xinjiang, to run a buddy system and surely solve their problems and difficulties. CPPCC member Xixima donated nearly ten thousand yuan to the poor households in Quwa Village in Wabo Township, Sichuan Province, and Yonghong Village in Liuhu Town ship of Pingliang City, northwest China's Gansu Province. They have taken practical actions to compose a new chapter showing the inseparable military-people friendship as that of fish and water: the reciprocal affection of the PLA and people.