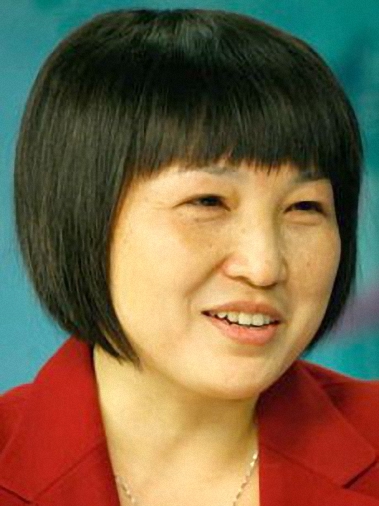 Liu Faying
A sophomore from Yichang, Hubei province, was able to take online classes during the COVID-19 outbreak, thanks to national legislator Liu Faying.
As millions of students nationwide studied at home due to the epidemic and enjoyed online classes, the college student, surnamed Yao, was unable to log on because her underprivileged home did not have broadband internet service.
After learning that Yao had to take lessons using her mobile phone, Liu, a deputy to the National People's Congress, the country's top legislature, approached the local government and helped her apply for broadband service at a lower price.
"With schools and colleges closed due to the epidemic, having online lessons at home has been one of the primary ways students have been receiving education, but it was hard for students to take those lessons in remote rural areas, where internet access is often poor," said Liu, also a deputy head of a primary school in the prefecture.
Although connecting to the internet was difficult for students like Yao, "education must be ensured," she said, adding that what she did for Yao was what an NPC deputy should do.
Liu regarded broadband internet service as a bridge between her and Yao, saying "helping children in need and contributing to the fulfillment of their dreams is my choice."
Besides helping Yao gain access to high-speed internet, Liu also shared the student's financial difficulties online. Soon, a man from Zhejiang province and a woman from Chongqing contributed 5,000 yuan ($700) to help pay for Yao's study costs.
Since the outbreak hit the country, the national legislator has helped students in poverty obtain about 500,000 yuan in financial aid.
"It's the people who chose me to be the NPC deputy, so I should do what I can do for them," she said. "It's my duty and cannot be forgotten, especially when disasters or difficulties come to them."
It was not the first time that Liu provided aid for children. Since 2005, with the help of more than 2,000 kindhearted people online, she has supported students in the Wuling Mountain area-which includes Chongqing and the provinces of Hunan, Hubei and Guizhou - 21,000 times, helping them to leave the poor region and escape poverty.
As businesses resume and people return to their normal lives, she said she would pay more attention to helping vendors and fruit farmers in Hubei, the province hit hardest by the outbreak, to promote their agricultural products.
"My efforts against the epidemic won't stop until it fully ends," she added.