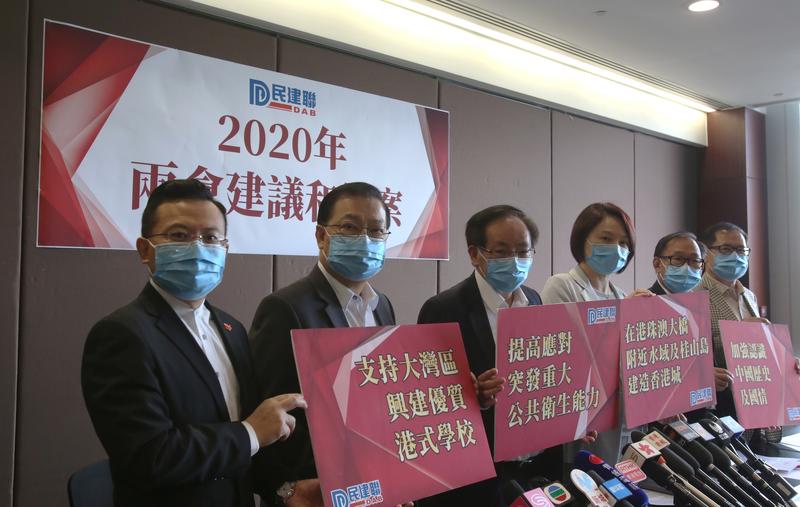 Members of the Democratic Alliance for the Betterment and Progress of Hong Kong announce their proposals to be submitted to the upcoming annual meetings of the National People's Congress and Chinese People's Political Consultative Conference during a press conference on Monday. [PARKER ZHENG / CHINA DAILY]
Six Hong Kong deputies and members of the nation's top legislature and political advisory body are to propose measures aimed at promoting understanding of Chinese history among Hong Kong educators and students.
At a press conference in Hong Kong on Monday, the three National People's Congress deputies and three members of the National Committee of the Chinese People's Political Consultative Conference revealed 23 proposals to be submitted to the annual plenary sessions, or two sessions, to be held in Beijing later this month.
They are all members of Hong Kong's largest political party, the Democratic Alliance for the Betterment and Progress of Hong Kong, including Tam Yiu-chung, who is the SAR's sole member of the NPC Standing Committee, and DAB Chairwoman Starry Lee Wai-king.
They said the lingering social unrest in Hong Kong shows that many young people have a poor understanding of the spirit of the rule of law and national identity. Such shortcomings reflect the inadequacies of the city's education system, causing misunderstanding of "one country, two systems" and creating negative views of the motherland among young people.
To set things right, the proposals focus on improving national education in Hong Kong. They also call for the setting up of a special institution, led by experts from Hong Kong and the Chinese mainland, to promote education in Chinese culture and history to enhance young people's knowledge of the country.
Courses should also be introduced for students, school principals, school board members and teachers to raise their awareness of the latest social and economic developments on the mainland.
Mainland institutions stationed in Hong Kong will be encouraged to hold public lectures and invite mainland scholars to explain national policies and projects to the people of Hong Kong.
The mainland and Hong Kong should also strengthen cultural exchanges, including exhibitions of precious historical relics and producing television and online programs, to promote Chinese culture in the city.
According to the delegates, the mainland authorities will be asked to formulate policies to help Hong Kong and Macao students receive education in major mainland cities.
Moreover, the Ministry of Education will be asked to consider recognizing the qualifications of part-time programs of Hong Kong universities, and to provide more training and job opportunities for Hong Kong students on the mainland.
Further to a proposal made last year, DAB delegates put forward a more comprehensive plan to reclaim land in Guangdong waters to build "Hong Kong communities".
They suggest designating Zhuhai's Guishan Island in the Pearl River Estuary off southwestern Lantau Island, and its neighboring waters, to provide a plot of residential land of at least 20 square kilometers for Hong Kong residents.
In response to the COVID-19 pandemic, the deputies and delegates also called for a review of and improvement to the mechanism of epidemic reports and communication across the country, and strengthen research and development of high-tech protective gear, such as reusable face masks.