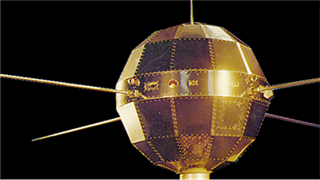 President Xi Jinping extended sincere greetings to the elder scientists who participated in the successful launch of the country's first man-made satellite 50 years ago and expected China's space industry workers to learn from their predecessors' spirit and strive to build the nation a strong space power.
Xi, also general secretary of the Communist Party of China Central Committee and chairman of the Central Military Commission, wrote in a letter in reply to some distinguished Chinese space scientists who participated in the Dongfanghong-1 mission that new generations of space industry workers should learn and uphold the spirit of those who took part in the making of the nation's first nuclear weapon, ballistic missile and satellite.
He encouraged them to overcome all possible difficulties and hardships to achieve new heights in space science and technology.
"(You should) strive to strengthen and expand our space explorations and make our country a great space power as soon as possible," the president wrote.
Xi also wrote that he was in Liangjiahe village of Shaanxi province 50 years ago when he heard about the launch of China's first satellite and he was very excited about the great news.
He recalled that the scientists' enterprise, diligence and perseverance inspired the whole nation at that time and exemplified the Chinese people's striving spirit.
A number of decorated space scientists including Sun Jiadong and Wang Xiji recently wrote a letter to Xi, expressing their expectations for China's space sector.
On April 24, 1970, the first Chinese satellite Dongfanghong-1, or The East is Red 1, was lifted by China's first carrier rocket – Long March 1.
The mission made China the fifth nation in the world to independently design, build and launch a satellite. The spacecraft worked 28 days before it ran out of power, but the satellite still travels in its orbit.
Since then, China has sent over 500 spacecraft into the universe and developed more than 20 models of carrier rockets.
In 2016, China set April 24 as the China Space Day. Space authorities and major contractors organize various events around the date each year to commemorate past accomplishments in the nation's space sector.
China carried out more space missions in 2019 than any other spacefaring nations in the world, with 32 successful orbital launches.