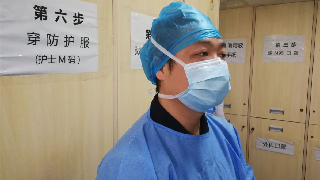 Zheng Jinding. [Photo provided to China Daily]
Editor's note: This series tells the stories of selfless individuals, from medical workers to volunteers, who are bravely fighting the virus outbreak with extraordinary dedication.
A doctor from Southwest China's Guizhou province, who returned to his hometown, volunteered to work on the front line in the battle against novel coronavirus in Central China's Hubei province.
Zheng Jinding, 37, went home on Jan 11 to take care of his father, who was critically ill, and then died. He was stranded in Yangxin county, in Huangshi, a prefecture-level city in Hubei, after the outbreak.
He realized how serious the situation was after Wuhan came under lockdown on Jan 23.
"Many doctors went to Wuhan. As a doctor in the infectious disease department, it's my responsibility to be on the front line," Zheng, a doctor with Guiyang-based Guizhou Provincial People's Hospital, said.
Since he could neither go to Wuhan nor Guiyang, Zheng applied to the People's Hospital at Yangxin county to join their work on prevention and treatment of COVID-19 on Jan 29.
On the second day, he started to work at the hospital's isolation zone. His duties included asking patients about their medical history, giving them physical examination and developing treatment plans.
A dozen doctors are working in the isolation zone of the hospital, a designated one for patients infected with novel coronavirus.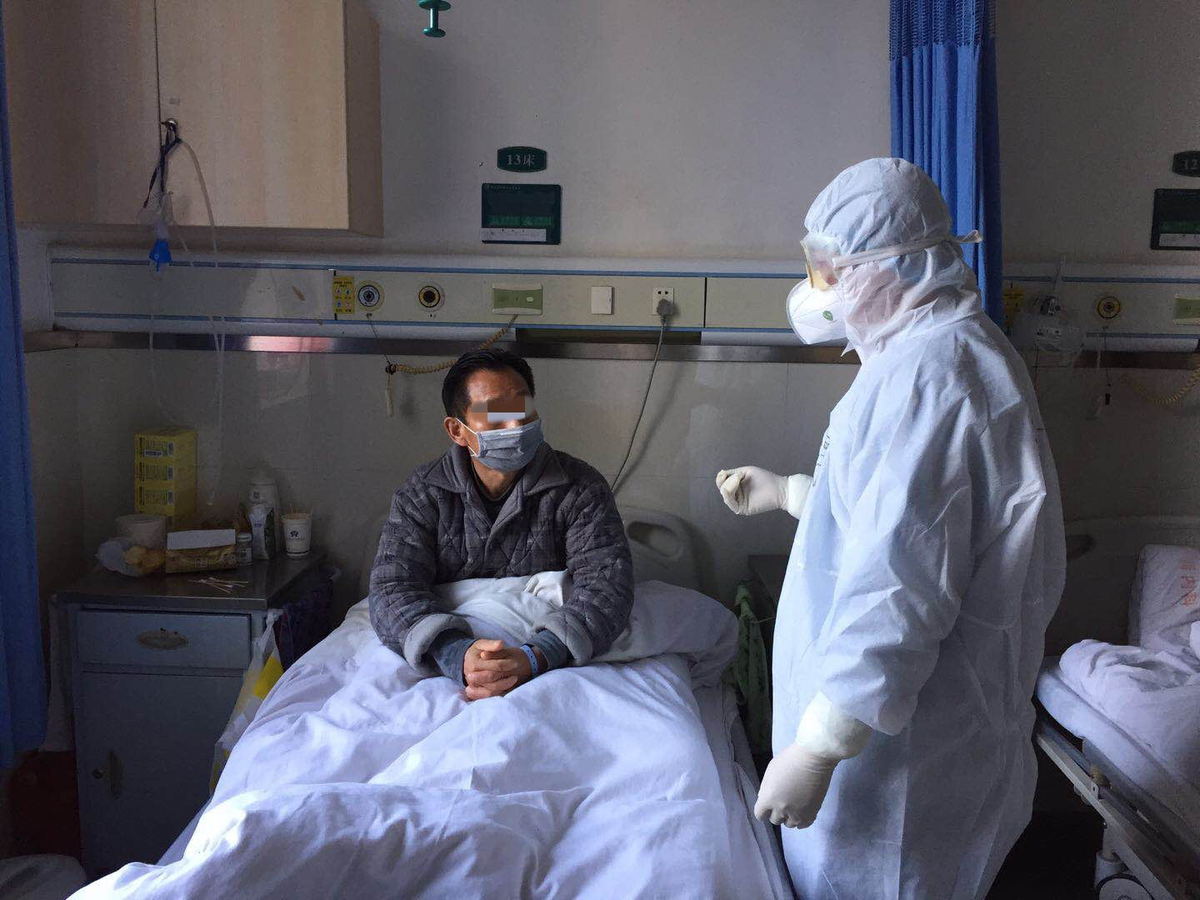 Zheng talks with a patient. [Photo provided to China Daily]
Besides wearing protective clothing, they also do not go outside in order not to spread the virus.
Zheng works from 8 am to midnight. He has his lunch at noon and takes rest in the living area inside the isolation zone. "It is very close to the wards, and if something happens there, I can attend to it quickly," he said.
Every day after work, the first thing Zheng does after taking off his protective clothing is to read his WeChat messages to see what his wife Zhang Cheng has sent him.
"She is also stranded in Hubei, but I have no time to talk to her. We communicate mainly via WeChat," said Zheng, adding that he has the support of his family to shoulder additional responsibilities in such an extraordinary situation.
"I want to help when people in my hometown need it," he said.
According to Zheng, the hospital's medical personnel are able to meet the current demands. He is the only doctor coming from outside the county to serve there.
"Masks, protective clothing and other medical supplies can meet the current demands, but there might be a short supply later," he said.
Zheng said in early February he will continue to work in the isolation zone until the epidemic is brought under control. "Now that I've taken this decision, I'm going to stick by it."
Like Zheng, many medical professionals across the country volunteered to take part in epidemic prevention work during Spring Festival, giving up the opportunity to reunite with their families.
By March 8, more than 42,000 medical personnel comprising 346 teams outside of Hubei were designated to provide help in Wuhan, according to National Health Commission of China.
After working at Yangxin county's hospital for 46 days, Zheng is now under a 14-day quarantine at a hotel designated by the hospital. After his quarantine and when the public transportation from Hubei to other provinces is restored, he will return to Guizhou province.
Che Weiwei contributed to this story.