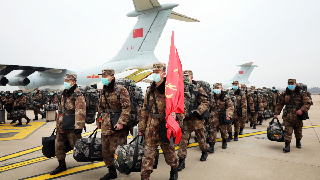 The military has deployed more than 4,000 medical personnel in Wuhan as part of epidemic control efforts since Jan 24. CHEN XIAODONG/FOR CHINA DAILY
Thousands treated
Chen Yi, a chief nurse at the Navy Medical University Changhai Hospital in Shanghai, said that when the facility announced it was sending workers to Wuhan to help fight the outbreak, nearly all its doctors and nurses volunteered to go.
"Some young nurses didn't tell their parents they had been selected to go to Wuhan, in case they became too worried and tried to stop them," she said.
Following instructions from President Xi Jinping, also general secretary of the Communist Party of China Central Committee and chairman of the Central Military Commission, since Jan 24, the military has deployed more than 4,000 medical personnel to join epidemic control efforts in Wuhan.
Major General Chen Jingyuan, the top health official at the Central Military Commission's Logistics Support Department, said that as of March 1, three medical facilities in Wuhan currently under military management had treated 3,467 patients in critical condition, and 689 of them had been discharged after recovering.
The facilities are Huoshenshan Hospital, Taikang Tongji Hospital and the Guanggu branch of Hubei Maternity and Child Health Care Hospital.
Moreover, 63 military hospitals nationwide tasked with receiving patients with the disease have provided nearly 3,000 beds, and more than 10,000 medics at these institutions are fighting the outbreak.
By March 1, military medical workers had seen 4,450 patients, with 1,000 of them being discharged after recovering, Chen said, adding that no military medics had been infected.
Chen added that the armed forces have allocated 400,000 medical masks, 8,000 protective suits and other medical equipment to Wuhan.
To deploy personnel as quickly as possible, on Jan 24, the PLA Air Force began using its transport planes to send military medics and materials to Wuhan. Three aircraft carried 450 medical workers and supplies to the city before midnight that day-Lunar New Year's Eve.
Since then, the Air Force has organized four air transport operations, involving 30 flights to Wuhan.
During the third mission on Feb 13, the Air Force used six Y-20, three Il-76 and two Y-9 transport planes to take hundreds of medics and supplies to Wuhan from seven cities across the country. The cities included Urumqi, capital of Xinjiang Uygur autonomous region, Shenyang, capital of Liaoning province, and Chengdu, capital of Sichuan province.
It is believed to be the largest-ever non-military operation undertaken by the Air Force's transport fleet. The mission also marked the first non-military deployment of the domestically developed Y-20, one of the world's largest strategic heavy-lift transport planes.
Yang Jun, commander of a transport regiment that joined the air operations, told China Central Television he was honored to pilot a Y-20 to answer the call for help from people in Wuhan. He added that his aviators are always ready to fly their aircraft to fulfill their missions.
Military observers said such large-scale deployments testify to the PLA Air Force's strong operational capability.
Du Wenlong, a retired researcher from the PLA Academy of Military Science, said that sending six huge Y-20 jets in a single operation underscored the Air Force's improved emergency response and transport capabilities.
"These tasks also demonstrated the Air Force's strong combat potential and the Chinese aviation industry's impressive manufacturing capacity," Du said.
Wu Peixin, an aviation industry observer in Beijing, said such operations highlighted the Air Force's ability to mobilize a large transport group at short notice.
"It showed that the crews involved are well trained and prepared to respond to emergencies or difficult missions," he said.
Wang Yanan, editor-in-chief of Aerospace Knowledge magazine, said the military's heavy-lift planes enable the government to transport sizeable medical devices more quickly and conveniently, compared with civilian aircraft.
"In addition to enabling medics to reach Wuhan as soon as possible, these operations can also serve to verify and improve the Air Force's ability to mobilize aviation units, organize large-scale, sophisticated deployment and provide logistics support for such tasks," Wang said.
As well as air operations, the PLA is using its trucks to help distribute daily necessities and medical supplies to markets, shops and hospitals in Wuhan.
Since late January, the outbreak has caused shortages of manpower and transportation in the city's logistics businesses, forcing the authorities to seek help from the military.