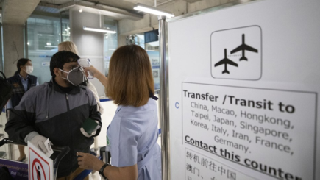 The COVID-19 epidemic has so far infected over 97,000 people worldwide and killed over 3,300 people. As the COVID-19 cases continue to surge in South Korea, Iran and Italy, the worst-affected countries after China, more countries have decided to tighten travel restrictions on these three countries to curb the spread of the virus.
Indonesia will ban entry and transit of foreign visitors who have visited cities hit by coronavirus outbreaks in Iran, Italy and South Korea in the last 14 days, starting Sunday, the country's foreign minister said on Thursday.
Travelers coming from other places in the three countries will need to provide a certificate issued by health authorities to declare that they are healthy, Minister Retno Marsudi said.
Indonesians coming home from the three countries, especially those who had traveled to outbreak-hit areas, will also face an extra health examination, Marsudi told reporters.
Singapore decided on Tuesday to ban travelers who have been to South Korea, northern Italy and Iran within the last 14 days from entering or transiting through Singapore, as part of its effort to guard against COVID-19.
Singapore's Multi-Ministry Taskforce set up to fight against the contagious virus made the announcement concerning the travelers to the above-mentioned places, which have seen a surge in the number of confirmed cases. It will become effective starting from 11:59 p.m. local time on Wednesday.
Moreover, Singapore citizens, permanent residents and long-term pass holders (including work passes, student's pass, dependent's pass and long-term visit pass) with recent travel history to these places within the last 14 days will have to remain in their place of residence at all times for a 14-day period after returning to Singapore.
Short-term visitors who don't comply will not be granted entry into Singapore. Singapore Permanent residents and long-term pass holders who refuse testing or cannot be contacted may face penalties.
Croatian Health Minister Vili Beros announced on Tuesday stricter measures at the Croatian-Slovenian border for truck drivers arriving from Italy due to the COVID-19 epidemic.
"The situation is under control in Croatia, but we are concerned about the situation in Italy and we are negotiating with neighboring countries about measures that needed to be taken urgently," the minister said in a media statement.
Increased checks on truck drivers started after a truck driver who recently visited northern Italy tested positive and became the ninth COVID-19 infection in Croatia on Tuesday.
Croatian Tourism Minister Gari Cappelli said on Tuesday that tourism industry had suffered a loss of 5 percent after the COVID-19 epidemic occurred, due to lower tourist arrivals.
"However, I am optimistic and I believe that pre-season bookings in Croatia will continue in a few weeks," the minister said.