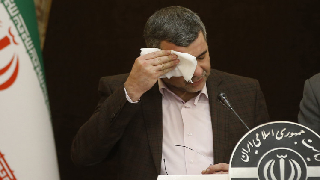 Iran has announced plans to mobilize 300,000 soldiers and volunteers as the country battles the coronavirus epidemic, which has so far claimed 77 lives among 2,336 confirmed cases that include 23 lawmakers.
It wasn't clear if the order would set the military in motion helping sanitize streets, direct traffic and track possible contacts those ill with the virus had with others, as initially suggested.
Ayatollah Ali Khamenei, the country's supreme leader, ordered its armed forces to assist health officials in combating the outbreak. "Whatever helps public health and prevents the spread of the disease is good and what helps to spread it is sin," he said.
Two senior Iranian officials have already died from the virus and several more are infected. According to the semiofficial ILNA news agency on Tuesday, the head of Iran's emergency medical services, Pirhossein Kolivand, has been infected as well. Kolivand's "health is good and there is no need for concern," ILNA reported citing a statement from his office.
Khamenei lauded Iranian officials' "transparency" amid the coronavirus outbreak, though experts worry the number of infections may be far greater than current figures show. He said that Iran has been transparent in revealing the figures of affected people.
The authorities have adopted extraordinary measures in Tehran and 13 provinces, including the closure of schools, universities, cinemas and some religious seminaries. Other more specific steps have also been taken or encouraged by the state.
Pamphlets urging people to wash hands have been put up and public transportation has been frequently disinfected. Awareness to take necessary precautions has also been raised as people wearing masks are increasingly visible in public.
But some resistance to taking adequate measures emerged from Iran's conservative base. High-ranking clerics have dismissed calls to suspend the opening of the holy shrine in Qom, one of the most sacred religious sites in Shia Islam that attracts visitors from across the Muslim world.
Further compounding Iran's difficulties to contain the coronavirus is the surging demand for respiratory masks and contamination suits, symptom relief medication, and immunity-boosting vitamins, as well as disinfectants, detergents, and related hygiene equipment. And sanctions from the U.S. make the shortage of medical supplies even worse.
Although Iran produces many of these products domestically, limiting the initial impact of sanctions on the availability of medicine and equipment, the country is dependent on imported ingredients and materials. U.S. sanctions are constraining the supply of raw materials and imported goods in two ways. Because of this, it will be very difficult for Iran to effectively contain and treat COVID-19 if manufacturers in the country run out of needed raw materials.