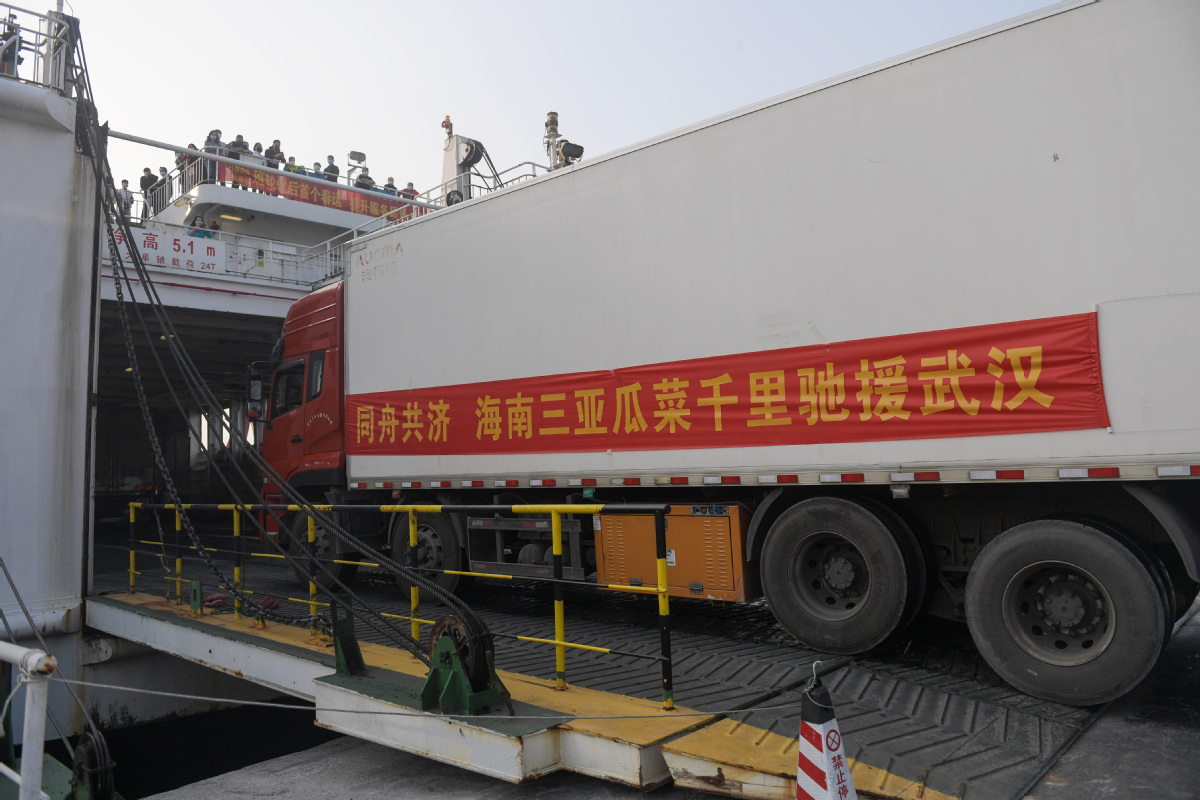 A truck loaded with fruit and vegetables donated to Hubei province by Hainan province is driven onto a ferry leaving the island province on Feb 1. PU XIAOXU/XINHUA
Ordinary citizens rally to help China beat outbreak of coronavirus
HAIKOU-This winter seemed longer and colder than previous years as the novel coronavirus outbreak gripped the country. However, people, young and old, from all walks of life, have all pitched in to fight the virus and take courage from each other.
By Tuesday, the confirmed number of cases of the coronavirus infection on the Chinese mainland had reached 80,270 and 2,981 people had died from the disease, according to the National Health Commission.
More than 30,000 medical personnel, including military medics, have been sent to Wuhan, the epicenter of the virus outbreak in Hubei province, to help combat the epidemic. In the battle against an invisible foe, public-spirited ordinary citizens have forged a strong force to support the front line.
Medical workers at the People's Hospital of Chengmai County in Hainan province practice properly wearing hazmat suits on Feb 11. PU XIAOXU/XINHUA
The 'snowbird' doctor
Dong Jie, a 67-year-old veteran doctor, is a "snowbird" senior who every year travels from the northern parts of the country to the semitropical southern province of Hainan to escape the cold winter.
He bought a house in the island's Chengmai county after retiring from the infectious diseases department of a hospital in Liaoning province in 2013. But this year, Dong is doing more than enjoying his retirement in the sunshine.
Honored with a second-class merit citation for his outstanding work during the 2003 severe acute respiratory syndrome outbreak, 17 years later he has volunteered at the People's Hospital of Chengmai County to fight the latest outbreak.
"I can share my experience in combating SARS with them and shore up their confidence," Dong said.
He has made several PowerPoint presentations to instruct inexperienced medical workers at the hospital how to properly wear hazmat suits and better protect themselves from being infected.
Lu Shanshan, vice-president of the hospital, said, "Sometimes he goes to the infection and fever clinics in person to give our doctors some guidance, which has moved me a lot."