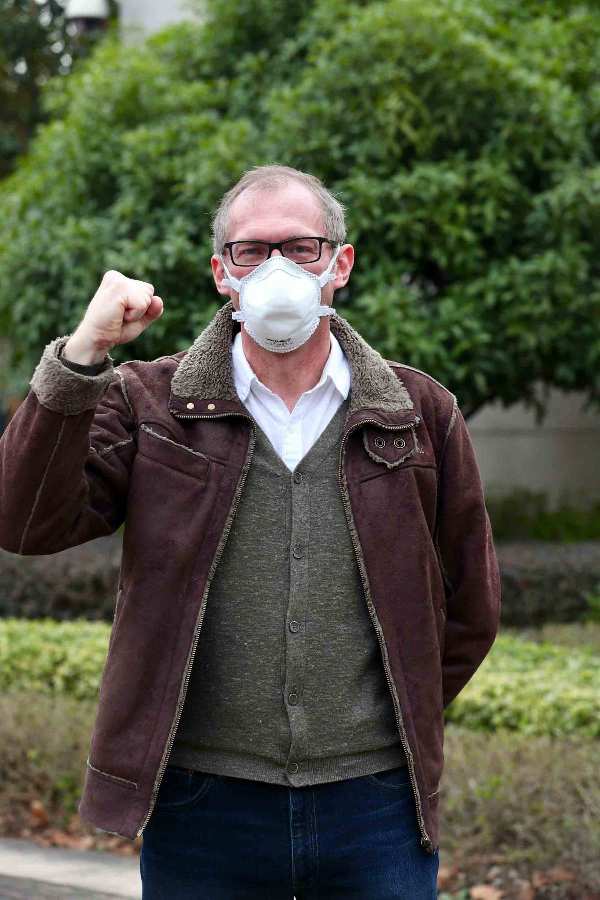 Philippe Klein
Editor's note: In this new series, we share stories and experiences showing how expats are dealing with the novel coronavirus pneumonia outbreak.
After persuading most of his patients and his wife and son to go back to France following the lockdown of Wuhan, Philippe Klein, a French doctor, decided to stay in the epicenter of the novel coronavirus pneumonia outbreak.
He remains busy caring for his patients in the city, including going to their homes to treat chronic diseases or provide psychological comfort as well as driving to pharmacies to order medication, which he delivers to patients.
"I am a doctor, so I have to do my job and do my duty," said Klein, a general practitioner at Wuhan Union Hospital in Hubei province.
Before authorities in Wuhan sealed the city, suspending all outbound flights and trains in late January to contain the highly infectious coronavirus, Klein served about 500 foreigners living in Wuhan, most of them French.
Following the outbreak, he closed his clinic at the hospital to reduce the chances of infection for his patients. Instead, he began to give diagnoses and treatment at patients' homes.
With an increasing number of novel coronavirus cases reported every day, hospitals in Wuhan have been mobilized to fight the disease, with few doctors and nurses left to treat patients with other diseases, he said.
"I explained to my patients that it would be better for them to evacuate, as it might be difficult for them to get proper treatment here," he said. Most foreign patients he knew returned to France and other European nations in evacuations organized by their governments, Klein said.
Some, though, decided to stay for different reasons, such as having a loved one in Wuhan or having a business there that they did not want to leave, he said.
But while he continued to see his patients, Klein found some had fever and might be infected with the virus, so he decided to send his wife and son back to France.
"When I came back home after seeing patients, I didn't feel very comfortable. I really did not want to put my family in danger, so I asked my wife to leave Wuhan on the second plane organized by the French government," he said. "My son was crying when we parted, but it was better for them to leave Wuhan and let me do my job. Also they were very proud because I was doing my duty here."
In addition to his sense of duty as a doctor, he said he also chose to stay because of his deep affection for the people and the city, where he has lived for six years.
"People in Wuhan are very friendly to French, and here I feel like a star sometimes," he said.
Witnessing the lockdown of a vast city with 11 million people, which is rare in human history, has made a big impact on Klein. He said he is touched by the sacrifice Wuhan residents have made to contain the outbreak.
"The last month was the craziest month in my professional life," he said."I would like to say to the people of Wuhan and to the Chinese people that they are going to overcome this epidemic.
"And their sacrifice, their courage, their solidarity, will pay off. It will be an example to the world to make such a sacrifice to protect the rest of the world."