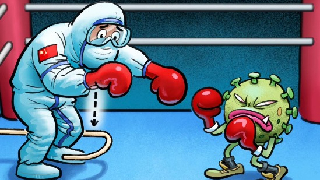 "Watch out! There's a car coming behind you!"
Thankfully, Liu Jintao warned me in time, and I avoided being hit as I prepared to interview him.
His Dongbei dialect impressed me, because when I heard it, I knew that he and I were from the same region of Northeast China. Currently, we are both in Wuhan, Hubei province, which is very far away.
My home city of Shenyang, capital of Liaoning province, is 1,800 kilometers from Leishenshan hospital, which was built to treat novel coronavirus pneumonia patients who are in serious condition.
As it turns out, Shenyang is also Liu's hometown. It is such a small world.
Liu is a regional manager of China State Railway Investment Construction Group Co. He came to Wuhan to work on the Fourth Ring Road project during the Spring Festival. Then the epidemic arrived. He could have chosen to stay home, but instead he volunteered to work as a traffic and virus control worker at the Leishenshan construction site.
"I have seen thousands of trucks going in and out of the construction site over the past few days," Liu said. "They come from all around China. And this is the secret behind the miracle of Leishenshan hospital, which was built in 10 days."
In the following days, I met a girl in the hotel where I am staying. Her name is Kuang Min, and she is a nurse from Wuxi Chinese Medicine Hospital of Jiangsu province.
As the first Jiangsu volunteer nurse to Wuhan, she has been working in the epicenter since Jan 20 and has never complained.
Tian Xi, a volunteer from Beijing who delivers masks and protective gear to various hospitals, wrote a will to his family in which he leaves them money to pay his debts if he cannot go back.
"Volunteers working in Wuhan are at very high risk of infection, as so many citizens have been infected and they do not even know it," Tian said. "If you are afraid of death, you should not come here."
Their voices and faces left such an impression that I dream about them sometimes. There was something they all had in common that I couldn't quite grasp.
Why do people from Shenyang, Beijing and Wuxi risk their lives to fight a potentially fatal virus in a city they have no connection with?
Netizens have cheered Wuhan and praised people from Northeast China using classic Confucian proverbs.
"Where there is a country, there is a home, and where there is hope there is love. Stay strong Wuhan, and stay strong China!"
"A just cause should be pursued for the common good. So one not only supports his own parents, but also takes care of others' parents," according to Confucian classic Book of Rites.
"We should keep in touch and help each other with diseases," Confucian philosopher Mencius once wrote.
I can't help but tear up reading the words and feeling the empathy. And it was then that I understood the commonality between Liu, Kuang and Tian.
I understood that culture nurtures thoughts, and the 5,000-year history of China is the root of this spirit of offering mutual support and assistance in times of adversity.
Li Liangsong, professor of Beijing University of Chinese Medicine, noted that more than 700 large-scale plagues hit China between 7th century BC and 20th century AD.
The reason why such a vast and populous country is still able to recover after so much suffering lies within the cultural gene we all share.
That gene drives us to unite through thick and thin.
If one is in trouble, all should help.
According to the National Health Commission, the government has launched a "pair-assistance" initiative among 19 provincial regions and 16 cities in Hubei.
Liaoning and Ningxia support Xiangyang city; Chongqing and Heilongjiang support Xiaogan city; Shandong and Hunan support Huanggang city; and Guangxi supports Shiyan city.
So whether it is the above regions, or Shenyang, Beijing or Jiangsu, the country is and will remain united during challenging times, now and in the future.