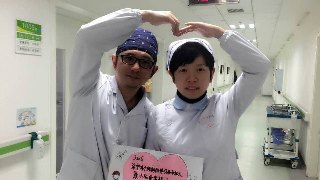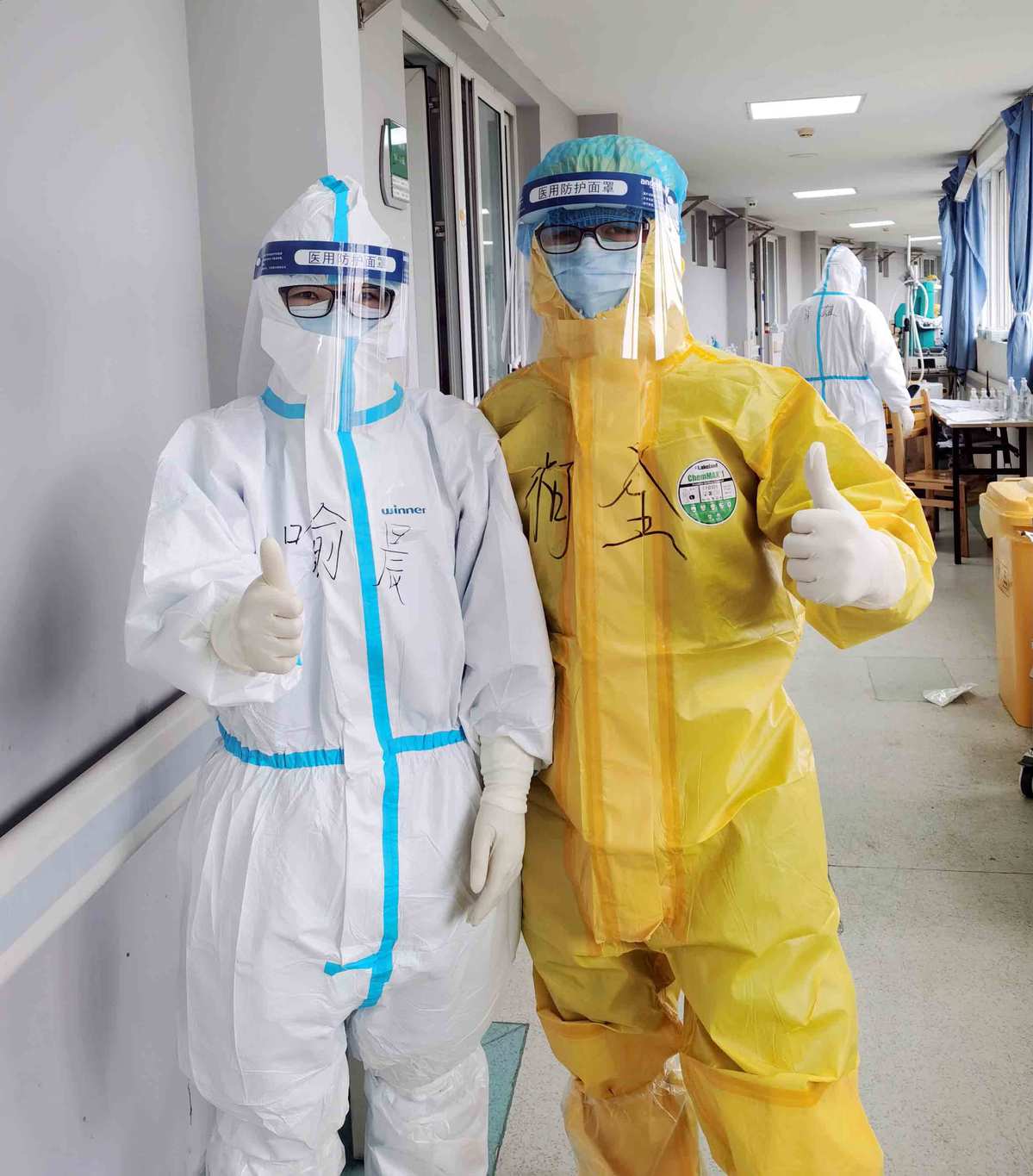 Nurses Yu Chen and Ke Quan give the thumbs-up at the Jinyintan Hospital this month. CHINA DAILY
Seven days later, he was assigned to the intensive care unit at Jinyintan Hospital.
"My fiancee supported my decision, which freed me from extra concern. What I didn't expect was that she would later join me on the same battlefield," he said.
Yu was dispatched to Jinyintan Hospital to do emergency work on Jan 25. Ke was surprised when she informed him. "Now that I was here at great risk, I hoped she would work in a safer place," he said.
The courage shown by Ke prompted Yu to join the fight alongside her fiance.
"I told him that I was going to the front line, but I didn't mention the exact department, because our work details were confidential," she said.
The two met accidentally four days after Yu began her emergency assignment at the hospital.
"I saw a familiar figure wearing a protective gown in the quarantine area. The name written on the gown was 'Yu Chen'. When she turned around, I saw her eyes behind her goggles. I was shocked to find her on the same floor," Ke said.
Yu said it was only when Ke called her name in a voice full of doubt that she confirmed they were working on the same floor.
After a moment of slight shock, they went back to their posts to continue their busy tasks.
"I can't say I wasn't afraid, but knowing he was around eased my worries. We encouraged each other through eye contact," Yu said.
Although they had worked at the hospital before the outbreak, Ke suddenly saw Yu in a different light: "In this battlefield, I saw the power and courage in her small body, like a totally different person. In the middle of the battle against the virus our relationship was not just love, but a combination of family ties and wartime friendship. I don't think anyone or anything will be able to sway it in the future."
The two met in 2017. Yu's delicate handwriting, in which she had incorrectly rendered Ke's first name as "Nan" (which is similar to "Quan "in Chinese characters), caught his attention.
They fell in love as they shared an umbrella on a rainy day, and two years later they decided to get married.
During their first days on the front line, Ke still hoped they would meet their marriage deadline, but those dreams evaporated as the outbreak intensified. Now, they self-quarantine after work, like all the other medical workers.
On Feb 2, rather than getting married, they walked together to the canteen, both wearing protective gowns, and had dinner as a special reminder of the rare date. "The top priority now is to protect patients in the hospital. We don't have the time or energy to consider another big day, but when the epidemic has been conquered, we will think about it carefully," Ke said.
Hu Jie and Zhong Hao, employees of the China Construction Third Engineering Bureau Co.
"It rained heavily in Wuhan on Jan 24, Lunar New Year's Eve. Mr. Zhong hastened to the construction site. As I helped him pack, he asked me if I was afraid. I said, 'No, I will be here waiting for you to come back.' Fighting!"
That WeChat message was posted by Hu Jie, who works for a corporation operated by the China Construction Third Engineering Bureau Co.
She posted the message after her husband, Zhong Hao, who also works for the bureau, had headed to the construction site of Huoshenshan Hospital, an "instant infirmary" that was being built in Wuhan's Caidian district to treat coronavirus patients.
Three days later, Hu answered a call from her company to assist with work for the construction of Leishenshan Hospital, another emergency medical center, which was being built in Jiangxia district.
The couple, who had planned a road trip to spend Spring Festival in Enshi, Hubei, canceled their plans and devoted themselves to fighting the disease on different battlefields.
Hu took charge of the paperwork and communications with different units on the Leishenshan construction site, while Zhong was a member of the administration office of the Huoshenshan project.
"We haven't met for days, as he is on standby 24 hours a day at the hospital. But he always sends me a message at 10 pm, before the daily work summary meeting, to ask if I got home OK," Hu said.
They have maintained this habit since 2016, when they worked in different cities. The two met at work in the northern port city of Tianjin, and married in 2012. Two years later, the bureau assigned them to Northeast China, but Zhong was dispatched to Wuhan in 2016.
In 2018, Hu was also transferred to Wuhan, which ended their separation. This time, she knew they would be unlikely to see each other while they were busy on the front line of the coronavirus battle.
Built in 10 days, the 1,000-bed Huoshenshan Hospital began receiving patients on Feb 3, Hu's birthday.
Zhong came home briefly the night before.
After saying a quick "Happy Birthday" and collecting a change of clothes, he returned to the construction site to help with the final stages of the construction process.
The pace of work on both projects was so intense that Hu was shocked when her mother reminded her of Lantern Festival, which fell on Feb 8 this year.
On the same day, Leishenshan Hospital, which can accommodate 1,600 patients, received its first batch of patients.
Hu and Zhong's respective parents were supposed to join them on the road trip this year, but the journey has been canceled.
"We broke our holiday promise, but they fully support our decision. My father told me that we are free to support the country, while they protect themselves," Hu said.
"If possible, when the epidemic is over, we want to travel with our parents to Chengdu, Sichuan province, to see the pandas."
Hu and Zhong hope people nationwide are confident of victory in the battle against the virus.
"We are at the front line and we are fine, so I see myself as an example to encourage others not to become too anxious," Hu said.