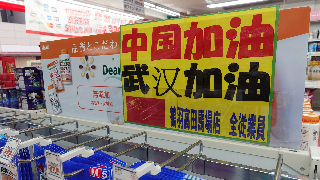 Photo taken on Feb. 11, 2020 shows a signboard conveying support to China in fighting the novel coronavirus epidemic at a store in Tokyo, Japan. (Xinhua/Du Xiaoyi)
By Zheng Hangen
The ruling Liberal Democratic Party (LDP) of Japan announced on February 10 that it will deduct 5,000 yen from the monthly expenditure of every LDP lawmaker to donate for China's fight against the novel coronavirus pneumonia (COVID-19) outbreak. This is another sincere move made by the Japanese society to help China fight against the epidemic in the past few days.
Since the outbreak of the COVID-19, Japanese government, ruling LDP and various social circles have expressed their condolences on hearing the news and extended helping hands to China. Plenty of anti-epidemic materials including batches of face masks, protective clothing, and medical goggles have arrived in various parts of China, alleviating China's urgent need in the war against the epidemic. Meanwhile, it has also made the Chinese people feel the kindness and warmth of its neighbor in helping each other.
The words of Nikai Toshihiro, Japan's ruling LDP secretary general, revealed Japan's sincere concern, "For Japan, China's suffering at present from the epidemic is just like the suffering of Japan's relatives or neighbors. Japanese nationals are willing to assist China, and hope that the epidemic will soon be eliminated."
China and Japan are close neighbors separated only by a strip of water. The two peoples enjoy a long history of cultural exchange and deep connections.
A few days ago, the HSK Office in Japan donated anti-epidemic materials to Hubei Province, China, with the poetic lines "Lands apart, Sky shared" (written by an ancient monk in China's Tang Dynasty, and a symbol of China-Japan friendship) printed on the packages of the donation. It has touched countless Chinese people.
"The green mountains are under the same clouds and rain, Under the same moon, how can it be said that we are in two separate places?" These moving messages coming along with Japanese relief supplies are widespread across China, bringing forth strength and power for the Chinese people to deal with the disaster.
Whenever faced with major disasters, China and Japan always have each other's back. A few days ago, former Japanese Prime Minister Yukio Hatoyama recorded a video to encourage China to fight against the epidemic. In particular, he mentioned in the video that he would never forget China's help to Japan during the 2011 earthquake in Japan.
Not only Japan, Russia, the Republic of Korea (ROK), and Pakistan, among others, have also extended their generous hands to China. At present, China is in a critical period of epidemic prevention and control. The timely help from the international community has lifted up the Chinese people's confidence in overcoming the epidemic at an early date. The Chinese people will always remember the help given in times of danger and adversity.