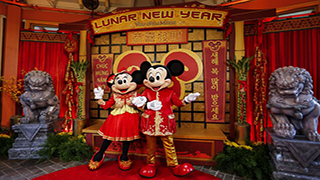 GLOBAL LANDMARKS GO RED
In a further nod to festivities, global landmarks the Vessel in New York City, the Sydney Opera House and the Tokyo Tower, all saw the Chinese New Year by turning red.
The lights inside the Vessel, a new attraction in New York City's glamorous Manhattan borough, changed to red on Wednesday evening.
Also in Manhattan, the top of the Empire State Building was illuminated in red and gold from sunset on Thursday to 2 a.m. (0600 GMT) on Friday. It is the 20th consecutive year that the Manhattan landmark has been lit in honor of the Chinese New Year, which became a public holiday for schools in New York in 2016.
The world-famous sails of the iconic Sydney Opera House also turned red on Thursday, to welcome the Year of the Rat.
Another highlight of the 2020 Sydney Lunar Festival is the returning Lunar Lanterns exhibition, with 12 larger-than-life illuminated artworks representing all the animal signs of the Chinese zodiac.
In the Japanese capital of Tokyo, the iconic Tokyo Tower was lit up on Friday in Chinese red as a symbol of China-Japan relations.
Tokyo Governor Yuriko Koike sent a congratulatory message to the event, expressing her belief that the city's Lunar New Year's Eve celebrations would illuminate the road to a better China-Japan friendship, as well as world peace.
In Giza, near the Egyptian capital Cairo, the Great Pyramids and the Sphinx shone red in a ceremonial sound and light show on Thursday evening as part of Chinese New Year celebrations.
During the show, the Sphinx was lit in vivid colors, while stories of ancient Egyptian pharaohs were told through laser shapes projected onto the three massive pyramids in the background.
"The Pyramids Plateau is distinguished by wonderful lights as the Chinese red lanterns integrate with the beautiful Egyptian pyramids, marking a meeting between the two old civilizations of China and Egypt," Shi Yuewen, cultural counselor of the Chinese Embassy in Egypt, told attendees.

The top of the Empire State Building is lit in red for the Chinese Lunar New Year in New York, the United States, Jan. 23, 2020. (Xinhua/Wang Ying)