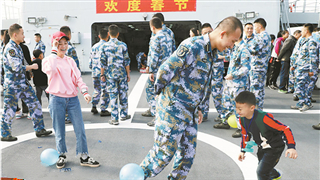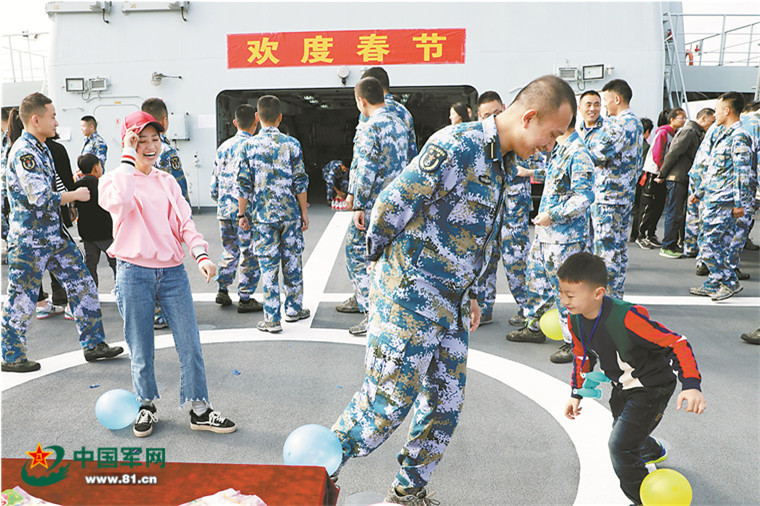 By Duan Xin and Wang Jianan
A few days ago, families of seamen serving on a naval vessel of the Chinese PLA Southern Theater Command were invited to visit the warship and have a reunion dinner, celebrating the upcoming Chinese Lunar New Year of the Rat together with the naval officers and soldiers.
Why did they celebrate the upcoming lunar New Year in advance? It turned out that the vessel is to set sail for mission on the eve of the Chinese Spring Festival.
Touring the warship was the highlight of the event. Pointing at the vessel engine, Chen Miaomiao, wife of Li Yongkang, leader of the engine squad, told the reporters that: "My husband spends more time taking care of it than being with me."
The military wives were shown around the warship while listening to the soldiers telling stories about the ship performing missions safeguarding China's maritime rights and interests. They said that they felt proud of their husbands.
"Our family reunion for the Spring Festival last year was late, but the reunion this year comes in advance", Duan Yanyun, wife of the electrician squad leader Du Wuwei said. Last year, after more than 20 hours' travelling with her 4-year-old daughter from her hometown Zhoukou City, Henan Province, before the train they took arrived at the railway station where her husband was supposed to meet them, Duan Yanyun received a call from her husband telling her his ship was going to set sail for an emergency task and he couldn't meet them at the railway station. Their dream of family reunion for the Spring Festival didn't come true until Du Wuwei and his ship had returned half a month later.
Assistant engineer Ge Long had been in love with his girlfriend for 7 years and they got married in March 2019. But he was unable to spend their first Spring Festival holiday with his wife together as a newly-married couple. Looking at her husband's face full of regret, Ge's wife standing by his side smiled gently: "When I married you, I knew I have married the sea!"
Liu Wei, a technical sergeant, told the reporter that in recent years, the support conditions have got improved significantly, and their mission voyages to high seas have become increasingly frequent, every year, they spend most of the festivals at sea.
"Thank you for your understanding and support to the military. Please take care of the families at home!" Captain Shu Tao extended his New Year greetings to the naval servicemen and their families onboard the ship.