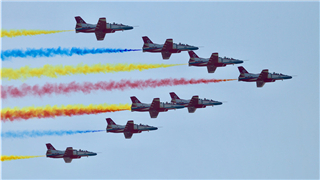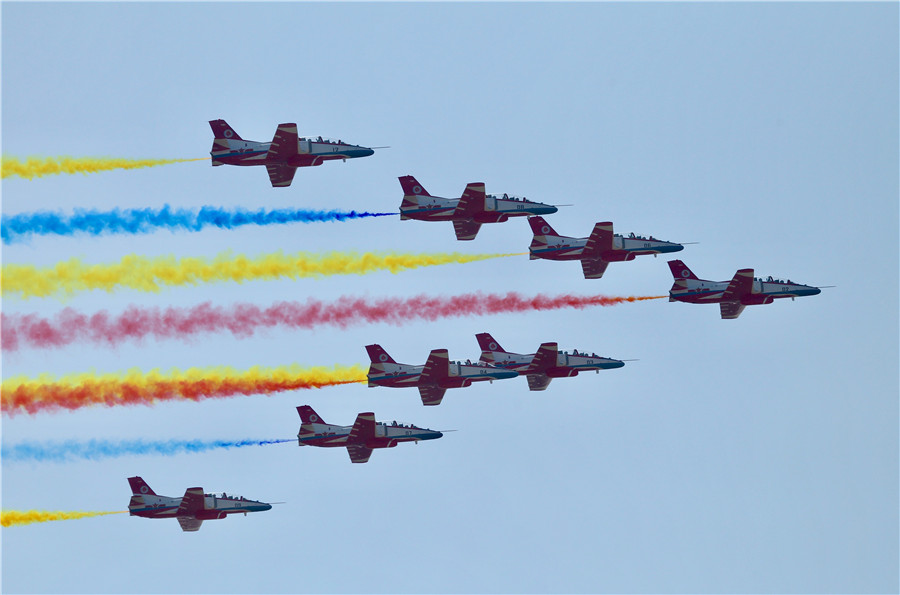 Red Eagle airshow team of the PLA performs at the China International Aviation and Aerospace Exhibition in Zhuhai, Guangdong province, on Nov 6, 2018. [Photo by Zhang Wei/Asianewsphoto]
By announcing that the country's defense budget is projected to grow by 7.5 percent this year, China has maintained a single digit growth in its military spending for four consecutive years. Such a growth pace is compatible with the country's comprehensive national strength and underscores its commitment to safeguarding both its national security and world peace.
Lower than last year's 8.1 percent, the growth in military spending revealed by a draft budget report to be submitted to the annual session of the country's top legislature that opened on Tuesday marks a reasonable and moderate rise. It reflects China's voluntary choice to slow the pace of its military spending after five years' double-digit growth between 2011 and 2015.
Any country with the sheer size of China and a growing demand to defend its expanding interests overseas would opt to open up the State coffers to cultivate stronger military capabilities suitable to the times.
The country's national defense forces are increasingly being called upon to effectively respond to rising security challenges and threats on its periphery. For instance, China's maritime interests have been infringed upon in recent years by countries from outside the region. The United States in particular, but also its allies, have frequently sailed warships through China's territorial waters under the pretext of so-called freedom of navigation operations.
And across the Taiwan Straits, separatist forces on the Chinese island have seized every opportunity to push their secessionist agenda on the island, posing a threat to the nation's territorial integrity and sovereignty.
Facing such a complicated security outlook, China's military spending is devoted to supporting military reform and facilitating the building of a more flexible and more combat-ready People's Liberation Army so that it can better fulfill its duties.
Despite the feigned cries of alarm, compared with the military spending of other countries, China's defense budget still lags behind them not only in growth rate, but also in the total amount and per capita terms.
And contrary to claims otherwise, the country has made clear its strategic intentions. It is committed to a peaceful development path and sticks to a national defense policy which is defensive in nature — as shown by its promise not to use nuclear weapons first and its efforts to build friendly relations with neighboring countries through dialogue and consultations.
It is high time those who seek to gauge China's strategic intentions through the rise and fall of its defense budget spending stopped making wild speculations and viewed it in an unbiased way. Instead of posing a threat to others, China is a responsible force contributing to world peace and stability.